Bluebell, 3, Redbank Plains.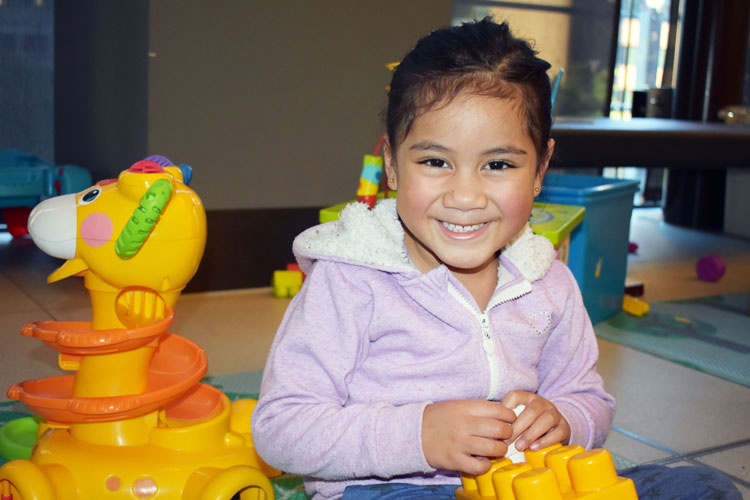 Three-year-old Bluebell from Redbank Plains is one of more than 140 patients who have benefited from life-saving ECMO equipment at Lady Cilento Children's Hospital.
In February this year, Bluebell's mum Marrian first noticed she was unwell when she picked her daughter up from day-care one Friday afternoon. Within three days she was on life support in the Paediatric Intensive Care Unit (PICU) at Lady Cilento Children's Hospital.
"I first noticed Bluebell wasn't herself on the Friday afternoon when I picked her up from day care and they told me she had a fever. At the time I also noticed a boil on her arm which had formed from a sore she had been picking but I didn't think too much of it.
"I gave her Panadol over the weekend for her fever but it didn't seem to help. She wasn't eating very much and all she really wanted to do was cuddle me. On Sunday we went to church and she was complaining about a pain in her groin but it seemed to go away when on Monday morning she was back to her normal self – smiling, eating and drinking again.
"It wasn't until that afternoon when she started to complain about stomach pain that I knew something was seriously wrong. Her stomach was really bloated and I could hear her heart beating out of her chest as she was struggling to breathe. She was trying her hardest to breathe but the infection at this stage was travelling through her blood making her really weak.
"My partner came home from work and I remember him saying to Bluebell 'we're going to take you to hospital' and she replied 'it's ok daddy, I'm just going to sleep here' as she patted the bed beside her. The doctors later told me that was her 'leaving us' as her body was shutting down due to the infection.
"We rushed her to hospital where she was taken into intensive care, placed into an induced coma and intubated to help her breathe. Bluebell's dad and I couldn't see her while this was happening. It was a nightmare - we couldn't believe what was happening to our baby girl," Marrian said.
Bluebell was diagnosed with Sepsis – a severe infection which effects blood flow to vital organs, including the brain, heart and kidneys – as a result of the boil on her arm. She was placed on ECMO to support her heart and lungs while her little body fought the infection. At the time, doctors also detected osteomyelitis (a bone infection) in her elbow.
Much to her parent's relief, they were able to successfully treat the osteomyelitis and sepsis and Bluebell was discharged in March after spending ten long days in PICU.
"This equipment is life-saving and without it our little Keine (meaning 'baby' or 'little girl' wouldn't be here with us today," mum Marrian said.
Bluebell, who turns four later this month, is now back at home with parents and two sisters. She loves singing and dancing and is looking forward to going to school next year.
Patient stories
Select a patient below to read their story.